As the third admission present for "ONE PIECE FILM RED" (directed by Goro Taniguchi), the new animated film version of Eiichiro Oda's popular manga "ONE PIECE", "ONE PIECE" Comics – Volume 4/4 "UTA" – will be distributed from August 27. The comic is limited to 3 million copies.
 Part 1, "The Scence of UTA," includes a profile sheet showing Uta's birthday and favorite things, as well as a look back at Uta's past. It also includes a report on Uta's first live concert "NEW GENESIS" to be held on the musical island of Elegia, details on the venue of the concert, and an explanation of the choreography for the song "New Era".
 Part 2, "Eiichiro Oda Sketch for RED," includes character design roughs for Uta and Gordon, the mysterious man who knows Uta, and traces the process of completing the characters.
The book also contains some treasured materials, such as notes written down by Mr. Oda and Director Taniguchi, who were discussing ideas that came to them during their meetings.
 The movie version features a total of seven songs in the film, including the theme song "New Era," sung by Uta, and singer Ado sang Uta's part in the film. Part 3 of the comic, "Utah's Voice, Utah's Song," features music producer Yasutaka Nakata, who wrote the theme song; composer Hiroyuki Sawano, who provided the music for the play; the band Mrs. GREEN APPLE; the music unit FAKE TYPE. Singer/songwriters Motohiro Hata, Vaundy, and Yuta Orisaka commented on the film.
It also includes a conversation with Kaori Nazuka, who handled the lines for the role of Uta, and Ado, who sang the role of Uta.
I have a feeling I'm going to see it three times now.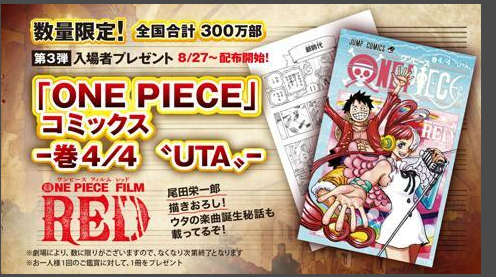 リンク