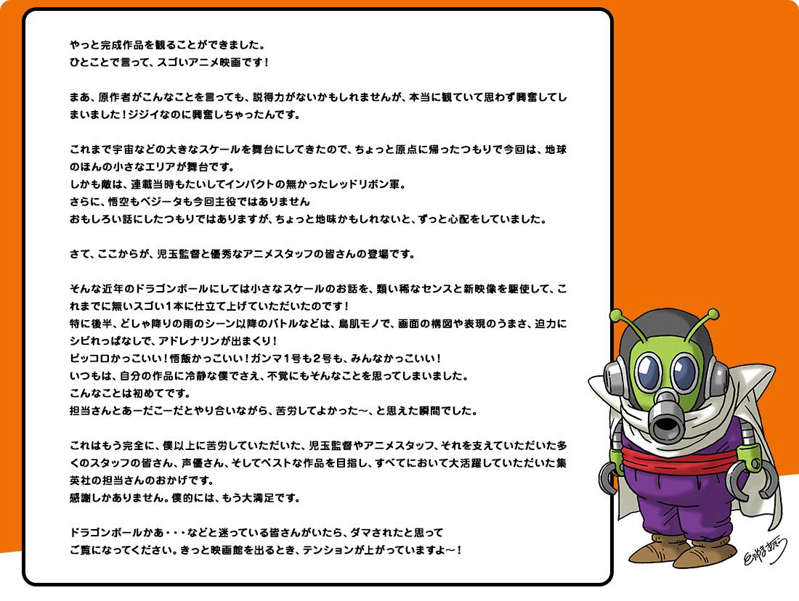 I finally had a chance to see the finished film….
In a word, it is an amazing animated film!
Well, it may not be very convincing for the original author to say this, but I was really excited to see it!
I am an old man, but I was so excited! I am an old man, but I was so excited.
I have been working on a large scale, such as in the space of letters, so I thought I would go back to my roots a little.
This time, it is set in a very small area of the earth.
Moreover, the enemy is the Red Ribbon Army, which didn't have much of an impact even at the time of the serialization.
Furthermore, Goku and Vegeta are not the main characters this time.
I tried to make it an interesting story, but it may be a little plain. I was worried that it might be a little plain.
Now, this is where director Kodama and the rest of the excellent animation staff come into the picture.
I have to say that this is a story on a small scale for such a recent Dragon Ball. With his exceptional taste and new visuals, he has created an amazing story that has never been seen before.
The second half of the film, in particular, is a real treat.
Especially in the latter half of the film, the battles after the scene where it rains and drizzles, I had goosebumps. The composition, the expression, and the power of the chase kept me on the edge of my seat, and my adrenaline was pumping!
Piccolo is cool! Gohan is so cool! Gamma #1 and #2 are all so cool!
Even I, who am usually so calm about my own work . I've never had such a thought before.
This is the first time this has happened to me.
It was the moment when I realized that I am glad I went through all that trouble with the person in charge of the project.
I would like to thank Director Kodama and the animation staff, who worked even harder than I did, and the many staff members who supported them, as well as the voice actors. and the Shueisha staff who worked so hard to make the work the best it could be.
I have nothing but gratitude. In my opinion. I am already very satisfied.
If you are wondering whether Dragon Ball is the right choice for you or not, please think you've been fooled and take a look.
I am sure you will be excited when you leave the theater! (translated by me)
I would like to watch it soon!!!!映画『ドラゴンボール超 スーパーヒーロー』大ヒット上映中! (2022dbs.com)