"SPY x FAMILY", a TV animation adaptation of the comic of the same name by Tatsuya Endo, will be broadcast sequentially from 9 April (Sat) onwards on TV Tokyo and other channels.
This work is an anime adaptation of the original comic, which has been serialised in Shonen Jump + (Shueisha) since March 2019. Set at a time when countries around the world were engaged in fierce information wars behind the scenes, the story is about a temporary family made up of a skilled spy, a psychic and an assassin who try to protect world peace.
 The subtitle of the first episode, which was released ahead of the broadcast, is 'MISSION: 1 Operation Strix'. The advance cut shows Anya Forger's eyes shining and Lloyd Forger holding a torn newspaper.
[SPY x FAMILY overview].
Broadcast date and time: every Saturday from Saturday 9 April at 23:00 (Japan time)
Broadcasting stations: 6 TV Tokyo networks, etc.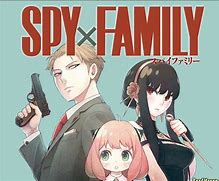 It is especially recommended for foreign nationals who like anime.
It's a great way to learn Japanese!
リンク