Merry Chocolate Company will sell chocolates of the new brand "Pokémon meets Merry Chocolate" in collaboration with Pokémon online from December 24. The chocolates will be available at department stores nationwide from January. The "Well-balanced Assortment Box" will be priced at 2,160 yen (including tax).
 This brand was announced for Valentine's Day 2022 by Merry Chocolate Company, which manufactures and sells luxury gift chocolates. The design uses pixel art of Pokémon and is nostalgic yet new. All products come with a special sticker.
 The products are assorted boxes of four types of Pokémon. In addition, there is a "well-balanced assortment box" which contains four types of Pokémon in one box. The box contains an assortment of chocolates with silhouettes of Pokémon and chocolates associated with each type.
Merry Christmas! With love from Japan!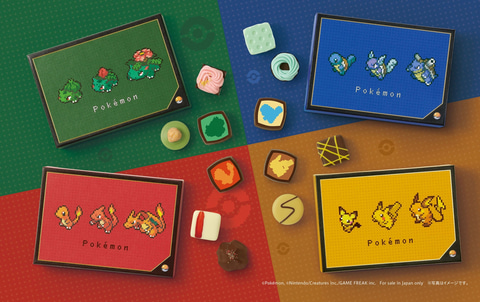 ポケモンセンターオンライン (pokemoncenter-online.com)