It was announced that "ONE PIECE FILM RED," a movie currently in theaters, surpassed 10 billion yen in box-office revenue on August 25.
The film started screening on August 6, and within 20 days of its release, it drew 7.2 million viewers and grossed over 10 billion yen, making it the fastest film released in 2022 to surpass the 10 billion yen mark.
Incidentally, looking at recent blockbuster anime films, "Blade of the Demon: Infinity Train Arc" was released within 10 days, "Shin Evangelion the Movie" within 127 days, and "Jutsu Kaisen Gekijoban 0" within 43 days. When compared to these films, the fact that "Shin Evangelion the Movie" broke through the 10 billion yen mark after only 20 days in theaters is quite an accomplishment.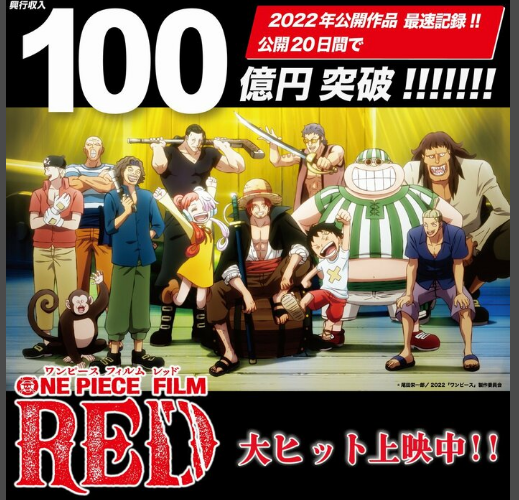 To commemorate the 10 billion yen mark, a "big hit thank-you" stage greeting will be held on September 1. Director Goro Taniguchi, Mayumi Tanaka (who plays Luffy), and Kaori Nazuka (who plays Uta) will take the stage to express their gratitude to those who have supported them.
In addition, from August 27, the third admission present "ONE PIECE" Comics – Volume 4/4 "UTA" -" will be distributed in a limited edition of 3 million copies nationwide.
リンク