"ONE PIECE FILM RED" (directed by Goro Taniguchi), the new animated feature film version of Eiichiro Oda's popular "ONE PIECE" manga, opened in theaters on August 6, 2012 and has become a blockbuster hit with box-office revenue exceeding 9.2 billion yen in 16 days. The film has been a huge hit, with the number of viewers reaching approximately 6.65 million, and the 10 billion yen mark is within sight.
 On August 15, "ONE PIECE" was released in theaters, and its box-office revenue exceeded 7 billion yen in its first 10 days of release, setting a new record of approximately 6.87 billion yen in final box-office revenue. It has also become a topic of conversation that "ONE PIECE FILM Z" (directed by Tatsuya Nagamine, 2012), which recorded a final box-office revenue of approximately 6.87 billion yen, broke the highest record for the series.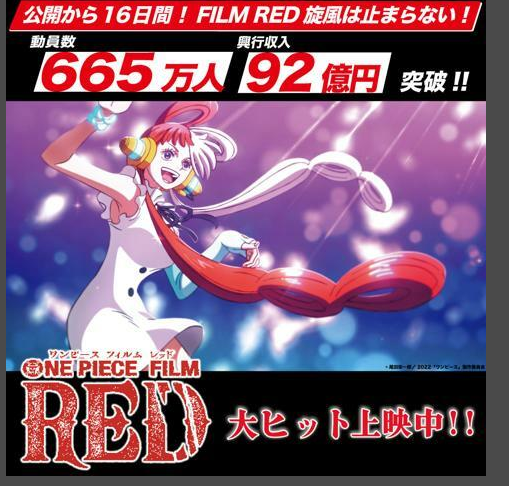 "ONE PIECE" is a manga that depicts Luffy, a character with a straw hat whose arms, legs, and other parts stretch like rubber, as he and his friends venture across the ocean in pursuit of the Pirate King. This July marks the 25th anniversary of the series, which has sold more than 510 million copies worldwide. The TV animation started in October 1999 and reached 1,000 episodes in November 2021.
 In the movie version, Utah, a diva who has the world's enthusiasm, appears in public for the first time in a live performance. Uta's singing voice, which she delivers while concealing her true identity, is described as "otherworldly." Fans from all over the world, including Luffy's band, the pirates, and the Navy, fill the venue, looking forward to hearing her singing voice. Then it is discovered that Uta is the daughter of Shanks.
リンク