On September 8, Nukeni, which conducts international gadget price surveys, announced the results of a comparison of iPhone 14 series tax-inclusive prices in 37 countries around the world. Nukeni converted the selling price in each country into Japanese yen (as of September 8), and found that the U.S. was the cheapest, followed by Japan in second place. Japan was in second place.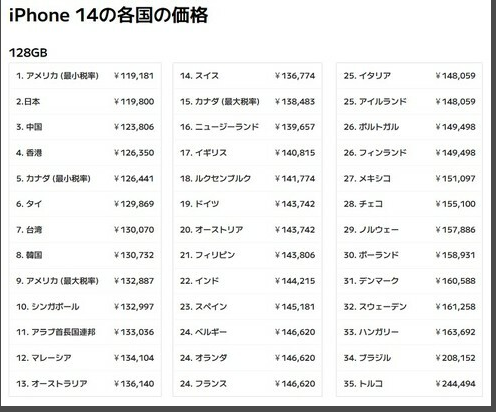 The top three countries with the cheapest price for the iPhone 14 (128GB model) were the "United States" (119,181 yen, the region with the lowest consumption tax) in first place, "Japan" in second place (119,800 yen), and "China" in third place (123,806 yen). 256GB and 512GB models were also in first and second place; only third place The third place was "Hong Kong" respectively. However, the price in the U.S. was higher than in Japan, depending on the location, due to the different consumption tax rates in each region.
 Conversely, the highest price was in "Turkey," the highest for all iPhone 14 models. For example, the 128 GB model was 244,494 yen.
 For the iPhone 14 Pro, the first place for all iPhone 14 models was the U.S., the second place was Japan, and the third place was Hong Kong. The most expensive was Turkey, where the 1TB model was priced at 419,588 yen. The iPhone 14 Plus and iPhone 14 Pro Max also ranked in the top three, with the most expensive being in Turkey.
 However, Nukeni noted, "The Japanese yen has weakened significantly since September 5, and it is possible that the iPhone 14 launch price was set before the currency fluctuations of the past few days, so there is no guarantee that a price hike similar to the iPhone 13 will not occur in the future if the yen continues to weaken. The survey was conducted on September 8.