During his visit to the United States, Prime Minister Yoshihide Suga met with President Biden for the first time at the White House in Washington, D.C. on the afternoon of April 16 and the morning of April 17 (Japan time). This is the first meeting between Japanese and U.S. leaders since Suga's visit to the U.S., and it has attracted a lot of attention in Japan.
In the Japan Times online news (Biden hosts Suga for first White House summit as China tops agenda | The Japan Times), there are several photos that are interesting. President Biden is in the foreground and Prime Minister Suga is in the background. I think they should be shown side by side, but I wonder if this is because of their social distance. Also, they are wearing black masks, which seems to be a sign of a meeting. In the photo of the meeting, President Biden is wearing a black mask, while Prime Minister Suga is wearing a white mask on top of his black mask.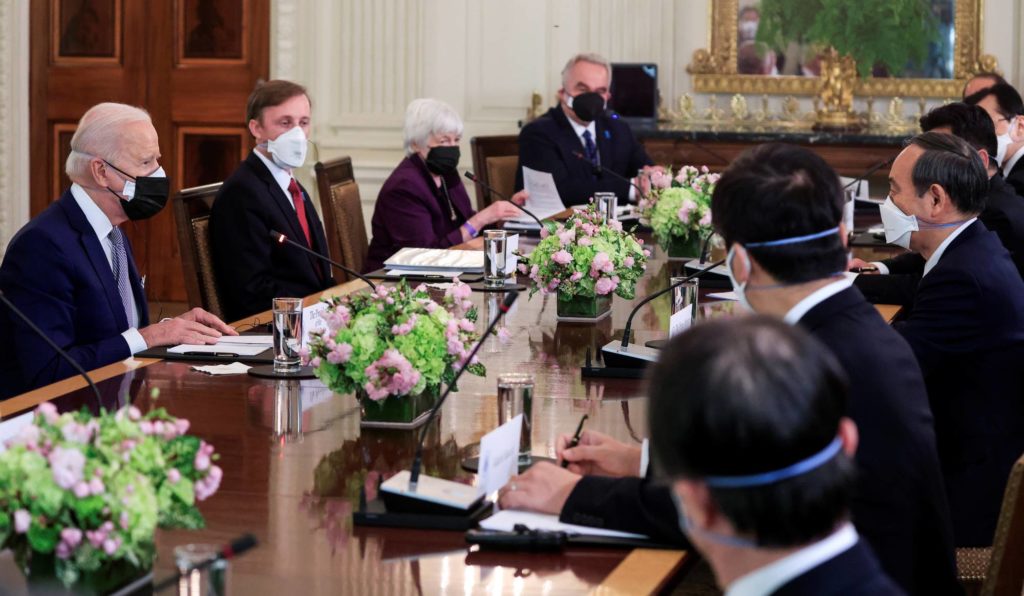 The nicknames, which seemingly have nothing to do with the meeting, are also of interest. President Biden reportedly called Prime Minister Suga by his nickname, "Yoshi".
Prime Minister Yoshihide Suga has an interesting nickname in Japan. It is "GaaSu," an upside-down version of his last name "Suga. He doesn't seem to mind the nickname, and during the LDP presidential election in September 2020, he said, "I don't mind it at all. I don't feel bad at all. He is also nicknamed "Uncle Reiwa" because he was the first person to announce to the public that the new era of Japan's national identity would be changed to "Reiwa" on April 1, 2019. He is also known as "Gaasu Vader," after Darth Vader, and as "Sugarin," after Joseph Stalin. Although he looks calm and precise, he is actually quite a practical man.
However, the Japanese people have a national trait of never calling him "Yoshi. At present, I hear that elementary school students call boys by "san" as well. This is in response to criticism that this is discriminatory. Today, it is common for young people to call each other by their first names, and there is no doubt that Westernization has started with Japanese youth. However, in the past, Japanese people usually added "san" to their first names, whether they were younger or older. It is also common to add "sensei" to school teachers, lawyers, and politicians. In companies, it is common to add titles such as "manager" or "section chief" to their names.
When I was a high school English teacher, I felt this gap firsthand. Americans, in particular, tell you to call her by her first names, but it is not so easy. Japanese people are reluctant to call people by their first names unless they have a good relationship with them and trust them.
We tend to call them "Sensei. Since English teachers are like that, teachers of other subjects are even more reluctant to call them by name. I remember one American who became very angry when a Japanese person called her "~sensei. Japanese people are unbelievable, she said. To the Japanese, it was just a respectful thing, but the American was really angry, and I was fed up with it. The American was a young woman, but she seemed unable to understand the cultural differences between Japan and the US until the end.
I wonder what Prime Minister Suga called President Biden. It seems that Joseph Robinette Biden Jr is his real name. The shortened form is Joe Biden, as you know. I wonder if Suga could have called him "Joe"?
When I think of "Joe", I think of "Tomorrow's Joe" (a famous Japanese boxing manga), so I would probably call him Mr. Biden. I'm curious to know what Suga called him, because it is a good example of the cultural difference between Japan and the US. I don't think it is necessary to call him "Joe".