On 7 August, Hiroyuki Nishimura (45), founder of 2chan and businessman, appeared live on ABEMA's "Abema Prime" (Monday to Friday, 9.00pm), where he is the MC, and referred to the "smile and peace" issue on the Henoko billboard. On the 3rd of this month, Hiroyuki was interviewed by the media.
 On 3 March this month, Hiroyuki reported on his Twitter account that he had visited in front of the gate of the US military's Camp Schwab in Henoko, Nago City, Okinawa. Protests have been taking place there since 2002 over the base issue, but Hiroyuki asked, "Since there was no one at the sit-in protest, shouldn't we make it a zero day?" He posted a photo of himself smiling and posing in front of a signboard at the sit-in site, which he said was unoccupied. The post triggered a lot of discussion about the protests and the base issue. It has also caused a great deal of controversy, with Okinawa Governor Denny Tamaki expressing his bitterness.
 In the programme, Hiroyuki's 'smile and peace' photo was raised as an issue. In response, MC Naoyuki Hiraishi, an analyst, said: 'I feel that this photo is extremely large. It is a symbolic place, and when I think about the peace movement, I also thought, 'I'm not a child'. What about this place?" I asked.
 Hiroyuki replied, "It wasn't that sign, it was in front of someone's grave. Isn't that someone's 'dirty writing'? It says things that are not true. YouTuber Seyarogai replied: 'I don't think it was necessary to say anything about dirty letters at all. The discussion heated up.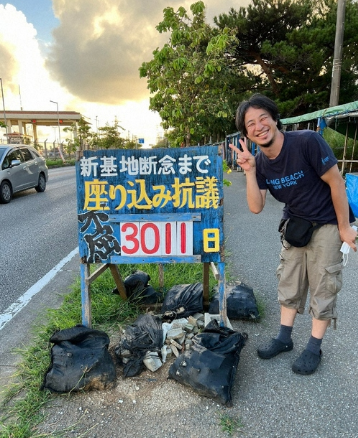 Japan has been swept up in Hikaru Ota's defence of the Unification Church and this comment by Hiroyuki.
They seem to be a typical developmental disorder (learning disability). In every school class there are always students who stir up the class.
Nowadays, research has been done and the definition of this has been defined.
Many of them are unable to read the situation or understand the feelings of others, but Hiroyuki's heckling and laughing remarks are probably because he enjoys getting them in trouble.
They seem to be a typical example of a developmental disorder.