Former Prime Minister Shinzo Abe's state funeral is finally approaching.
September 27, 2022, 2:00 p.m. Opening Ceremony.
Place: Nippon Budokan.
Funeral chairman: Prime Minister Fumio Kishida
Format: Non-religious format
Cost: Approximately 1.66 billion yen (paid from the general reserve fund)
General offerings: 10:00 a.m. to 4:00 p.m. (bring your own flowers for the floral tribute)
Attendees: Approximately 4,300 people (In Japan, invitations were sent to approximately 6,000 current and former members of the Diet and local government officials, and approximately 3,600 people have indicated their intention to attend.)
About 700 people from 218 countries and regions are expected to attend the meeting, including 35 current heads of state and government, including U.S. Vice President Harris and Canadian Prime Minister Trudeau. Prime Minister Anthony Albanese of Australia, Prime Minister Narendra Modi of India, and Vice President Wan Gang of the National Political Consultative Conference of China will also attend.
At the venue, all attendees will be asked to wear masks as a measure to prevent the transmission of the new coronavirus. At the state funeral of Queen Elizabeth, there were many reports of masks being removed.
Foreign dignitaries are forced to wear masks.
Some may protest the senseless wearing of masks.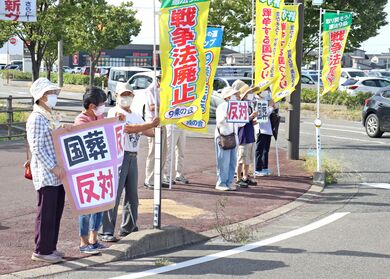 In Japan, there is more than a majority against the state funeral of former Prime Minister Abe.
According to a survey by RSK, a whopping 75.5% are opposed.
Unlike Queen Elizabeth, the Japanese do not want a state funeral.
Protest rallies are scheduled to be held in various locations, including on the day of September 27.
Police security is said to number 45,000. They probably do not want to repeat former Prime Minister Abe's security failure again.
Meanwhile, the movie "2887," which examines the administration of former Prime Minister Abe, has been playing at a movie theater in Yokohama since January 24.
In addition, a film about the life of Yamagami, directed by a former member of the Japanese Red Army, is scheduled to be released on the 27th.
TV stations are also scheduled to air the movie, but only TV Tokyo will air only 5 minutes of the movie.
I only hope that nothing will happen, but I am curious to see what will happen if foreign dignitaries refuse to wear masks.
There doesn't seem to be any legal restrictions on silent prayer, etc.
However, what I can say is that when former Prime Minister Abe passed away, former Organizing Committee Director Takahashi was arrested in an Olympic bribery case, and even arrests from well-known Japanese companies such as AOKI, Dentsu, and KADOKAWA have been made one after another.
I hope that the relationship between Japan and the Unification Church in the 70 years since the end of World War II will not be kept in the dark. I wonder who will be arrested next. I don't think he will get away with it.