Tetsuya Yamagami, 41, the suspect who was arrested for shooting former Prime Minister Shinzo Abe, has stated his mother's devotion to the Unification Church as his motive for committing the crime. Yamakami's uncle testifies to his horrific upbringing.
 The suspect Yamagami has an older brother and a younger sister. Before her mother became a believer in the Unification Church, she was involved in the activities of a group called the Hongseikai for Practical Ethics, and her father, who became neurotic because of his devotion, took his own life. (See "Former Prime Minister Abe Shot Dead: Another Group Behind Father's Suicide.)
Tetsuya's older brother had childhood cancer and had undergone surgery. He was blind in one eye and had a hard time in his daily life.
 The person who revealed this was the elder brother of Yamagami's father, in other words, his uncle.
My father passed away and my brother was also ill. That is why my mother joined the Unification Church long after my father's death.
 She became a devoted follower, often leaving her children behind and traveling to Korea for long periods of time.
The children didn't have anything to eat during that time. Because their mother was not in Japan. I went to Korea and left them alone for a long time. It was not neglect, it was worse. My brother is too sick to cook his own meals. He called me and said, "I don't have anything to eat. I would take him money and give it to him. Then, there was like no food in the fridge. ……"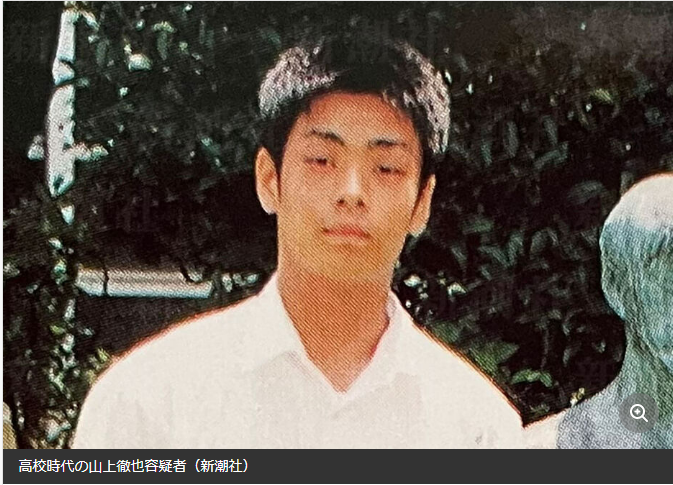 Furthermore, the uncle said that an agreement was made between the Unification Church and Yamagami's family.
The suspect (Yamagami) would hate the Unification Church," he said. (There are more than 100 million yen that has been taken away (as donations) from his house. I recovered 50 million yen from the Unification Church in 2009 at the request of my three nephews and nieces (including Yamagami). I also have the settlement from that time. But the mother donated the money back to the church.
 The mother is said to be living at her uncle's house in Osaka Prefecture.
 Yamakami's brother, who grew up in a special environment, later committed suicide, and Yamakami herself attempted suicide, troubled by her mother's religious beliefs.
It could be said that Yamagami has become a victim of Japan's underworld.
リンク